Handcrafting Brü's Website
Feb 2014
One of our favorite projects from the past year was to help launch Philly's new German Biergarten, Brü Craft & Wurst. With inspirations from famous German figures like Mad King Ludwig and the Brothers Grimm, we gave the bar a personality that was a bit…off-kilter. Fortunately, people around here really dig off-kilter (and awesome beer), and Brü's debut was a major success. After we put down our celebratory steins it was time to eye up the next challenge – creating a website for Brü that was as distinctive as the bar itself.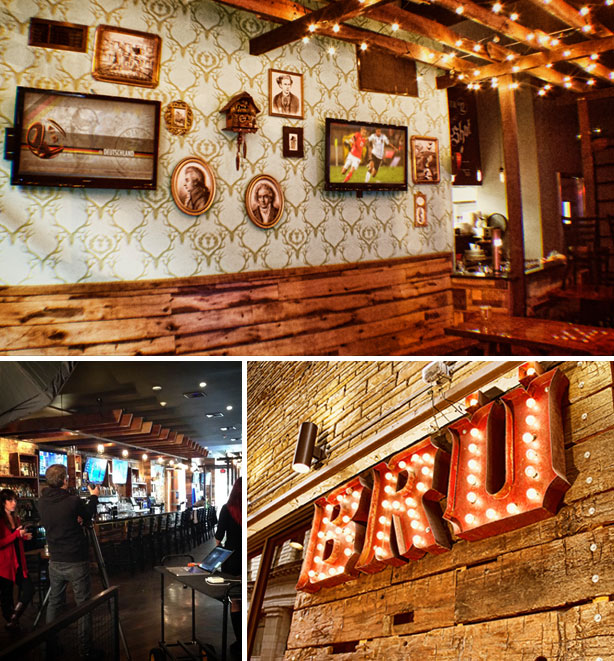 We knew firsthand that the place was pretty damn cool. The arsenal of LCD TVs. The giant self-serve beer wall. The schnitzel. So we pulled up our lederhosen and got to work, eventually hitting on the idea that the best way to show off the bar was to let the viewer walk right through it…virtually. Sure the idea was a bit out there …but hell, so was Brü.
Of course, pulling off unconventional ideas sometimes requires a little teamwork. So we enlisted help from Nic D'Amico, a celebrity-status photographer based in Philadelphia, to help us figure out how to pull off das site. Ultimately, we used high-res photography with Nic slowly…slowly…slowly walking his way through Brü, taking photos about a half-inch at a time. Patience, Daniel-san.
Making things all the more challenging was replicating a rather packed bar house…for a 10am shoot. Thus working at Masterminds that day meant you had to go sit at a bar and pretend to be a patron…by doing things like drinking lots of beer and eating delicious food. It's a rough life.
The whole process would yield a little more than 1,300 photos and end up taking all day to shoot (not that we're complaining). With the goods in-hand our design team along with help from Center City Film and Video poured in the hours, kicking ass until the vision was complete. The end result? Well. You be the judge.